For many Tanzanians seeking income-generating activities, becoming a boda boda rider is one of the most popular jobs available. As a significant mode of transportation in Tanzania, they allow people to avoid spending too much time on the road, and are quite convenient and cost-effective for business owners when delivering goods. 

Are you looking for a way to own your boda boda in Tanzania? Do you dream of becoming an entrepreneur?  Learn more about how you can get a boda boda loan from Watu!
---
With a population of over 62 million people, it is estimated that 3% of Tanzanians are boda boda riders. The boda boda business is one of the fastest-growing in Tanzania, enabling you to earn a sustainable income and enrich your life. The benefits don't end there! With a boda boda, you can also contribute to the community by providing indirect employment to other service providers.

This fast-paced industry is full of unlimited possibilities for growth and financial stability for boda boda riders. Their convenience and availability make them an integral part of the everyday life of Tanzanians. From biryani deliveries on Friday afternoons, to rides from Masaki to Kariakoo, a boda boda can get you anything and anywhere in Tanzania!
How to get a boda boda loan
Owning a boda boda remains a dream for many Tanzanians who struggle with obtaining the financial resources to turn that vision into reality. Most lack a credit history, making them unqualified to access loans from banks and other traditional lending institutions. Through financial inclusion, Watu gives opportunities to everyone regardless of their status. We offer flexible and affordable asset financing solutions that provide opportunities for Tanzanians to enhance their lives.
To get a boda boda loan from Watu, you need to have: 
Original certificate of one of the following documents:

National ID (NIDA).
Voter ID.
Driving license.
Original TIN number certificate.
Introduction letter from the local government.
One guarantor over the age of 20 should come with one of the original identification documents mentioned above.
The borrower must be accompanied by a guardian if between 18-19 years old and can be unaccompanied if between 20-65 years old.
A minimum down payment of 400,000 Tshs.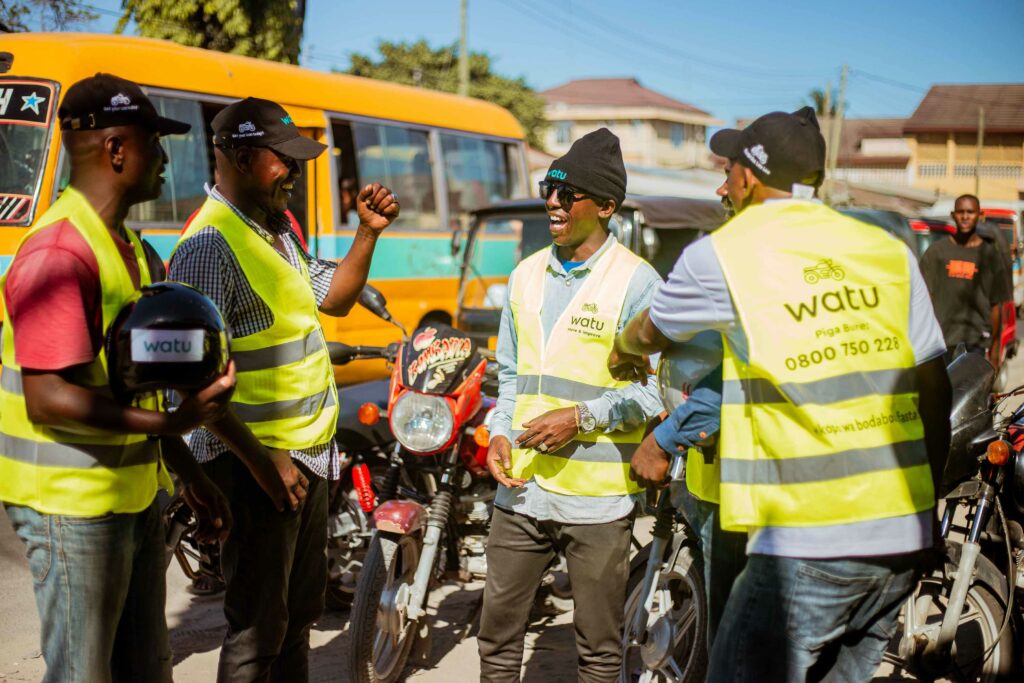 With a Watu boda boda loan, you are well on your way to securing your livelihood and achieving self-sufficiency. We also provide you with *free third party insurance, and our clients enjoy 24/7 emergency response in case of theft or accidents.
The types of bikes available at Watu include Bajaj, TVS and Hero.
It is time to begin your entrepreneurship journey and build a sustainable future for you and your family. For more information, contact us and follow our social media pages on: 
You can visit any of our branches and get your boda boda loan today!
*In case of an accident where you're at fault, you don't need to compensate the injured party! Third party insurance offers you protection against any damage to someone else's vehicle, property or personal injury to the other party. In addition, you can also get a personal accident cover up to Tshs 5 million as part of the third party insurance from Hero and TVS.